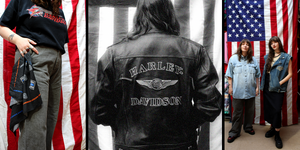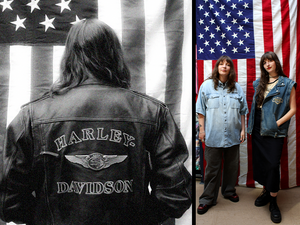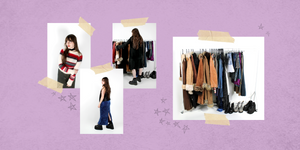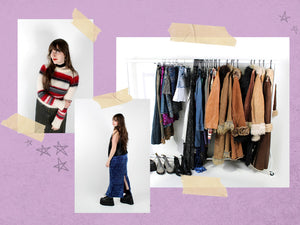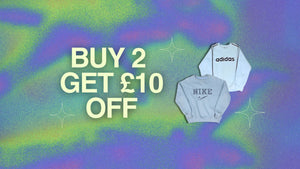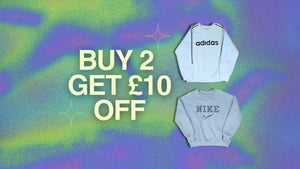 THRIFT Events
Click through to our events page to check out our upcoming pop-up dates and don't forget to get your free tickets for our monthly warehouse sales. More info...
Vintage Folk – The Online Vintage Clothing Store
Vintage Folk brings the freshest, one-of-a-kind vintage gems straight to your wardrobe. We're an online vintage clothing store with sustainability at the heart of everything we do. We pride ourselves on offering premium products from all the best brands, including Nike, Adidas, Levi's, Carhartt, Dickies, The North Face, and so many more! All our items truly capture the essence of vintage fashion, bringing you the absolute best clothes from the 80s, 90s, and 00s.
We were founded in Manchester in 2017 and have since made it our aim to bring affordable, sustainable, and quality vintage clothing to the masses. Our website features a wide variety of unique pieces from the past few decades, including everything from vintage American clothing and branded sportswear to oversized streetwear and classic workwear styles, all of which have been carefully sourced and curated to ensure that you're getting the best quality available. But that's not all - we also host thrift events, giving you the chance to see our amazing range up close and in person.
Vintage fashion not only adds an air of nostalgia, but it also promotes sustainability. By choosing to wear vintage, we reduce the amount of waste in our environment and contribute to a zero-waste fashion culture. So, if you're looking to add something unique to your wardrobe while also being environmentally conscious, you've come to the right place. Our collection of men's vintage clothing contains everything fromclassic football shirts and American jerseys to jackets and coats. And, our assortment of vintage clothes for women includes plenty of pre-loved branded sweatshirts , jeans , and t-shirts for you to choose from. With our passion for vintage fashion and commitment to delivering a great customer experience, you're sure to find something you love when shopping with us.
Always unique. Always quality. Always sustainable.
Pre-Loved Designer Clothing from the 80s, 90s, and Y2K
We have a premium range of pre-loved designer clothing from all the best brands from the past few decades. The 80s, 90s, and Y2K had some of the most iconic fashion moments that deserve a place in your wardrobe! Elevate your style with some classic 80s pieces, from bold tracksuit tops to patterned knitwear, we love this colourful fashion era and have plenty of vintage 80s clothes for you to choose from. And what's not to love about the 90s? The music, the movies, and of course, the fashion! We have all the best vintage clothes from the 90s for you to scroll through including graphic tees, big logo sweatshirts, workwear, techwear, and even a huge range of classic 90s football tops and American jerseys.
Y2K clothing is bang on trend! We have a fantastic collection of noughties fashion staples to keep you looking fresh this season. From low-rise jeans, cargo trousers, and mini-skirts, to Afghan coats, bucket hats, and baby tees, you're sure to find the very best 2000s clothing here at Vintage Folk. With endless possibilities, you can mix and match pieces from across different eras and fully embrace retro clothing from head to toe to create your own unique, individual style.
Second-Hand Vintage Clothing from all the Best Brands
Are you looking for the best branded vintage clothing? Look no further than our carefully curated selection of the most sought-after brands from the past (and present!). From Levi's, Nike, and Adidas, to The North Face, Patagonia, Diesel, Berghaus, and Ralph Lauren, we've got you covered with high-quality vintage pieces that will make you stand out from the crowd.
Shopping for second-hand designer clothes allows you to find rare pieces that are no longer available in the stores. They are not only affordable, but are both on trend and eco-friendly too! You really never know what treasures you might find – a classic Levi's denim jacket, a vintage Nike sweatshirt, or maybe even a bold tracksuit top from your favourite brand.
Sustainable Fashion at Vintage Folk
At the heart of Vintage Folk lies a deep passion for sustainable fashion. We visit textile recycling plants across the UK, Europe, and even as far as the USA to find quality vintage fashion and save clothes from ending up in landfill. Container loads of pre-loved clothing are delivered to our warehouse every week and our team hand-pick the best pieces to offer our customers. We believe that fashion can be both stylish and sustainable, and we always strive to bring you the very best vintage clothing that not only makes you look good, but also makes you feel good knowing that you're making a positive impact on the environment.
Choosing second-hand clothing not only reduces the amount of waste that ends up in landfills, but also gives new life to unique pieces that may have otherwise been forgotten. Vintage clothing is also known for its premium quality and better craftsmanship, and there is something special about wearing a garment that has been around for decades and has stood the test of time. Plus, vintage clothes often have a story behind them and add a touch of character to any wardrobe. You never know what hidden gems you might find!
Join us on our journey towards a more sustainable future, one garment at a time.
If you have any questions about any of our products, please do not hesitate to contact our friendly team and we will be happy to help. All of our products are sorted, graded, and packaged from our Manchester, UK warehouse and delivered straight to your door. So, why not explore our collection today and add a touch of vintage charm to your wardrobe? We can't wait to see what you discover!
We hope you love our products as much as we do!